Wrong premises cause the biggest issues
For many B2B companies, digitalisation is placed high on their agenda – and with good reason. Digitalisation contains many solutions that optimise elements of business development across different sectors.
In our experience, many problems can be avoided if you manage to steer clear of the most common obstacles. And yes – you read that correctly. There are common obstacles. Because even though every business is unique, there are many similarities in the challenges that companies experience when beginning a digitalisation process.
You may be asking yourself if this really is true because there must be some variation because of different fields.
And yes, there are some distinct differences based on the field. Differences in terms of needs and the solutions they require in order to have a successful digitalisation.
However, there are similar obstacles that may affect every field.
Often it is these basic premises for digitalisation that are the roots of issues when the digital business is falling behind or struggling to take off.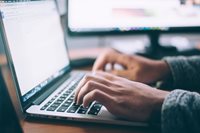 The common obstacles of digitalisation – and how to avoid them
At the end of the day, it is about linking the current business with digital business opportunities. Keeping this in mind, you should aim to avoid these obstacles:
Obstacle 1: Thinking of digitalisation as a one-time project
One of the largest pitfalls is to see digitalisation as a classic project with a start and an end date. This is a common misconception. Way too often, companies perceive digitalisation as a definable project in the form of a concrete product – e.g., a new webshop, an app, or a website.
However, this is a mistake. Digitalisation is very much about the steps before both defining the project and choosing the technology. The first steps revolve around the creation of a strategy for what the company wants to evolve into – both now and later. When the strategy and business potentials are defined, you can work on developing and implementing the solutions that will realise your potential.
Therefore, it is important to accept that digitalisation does not have a final end date. Digitalisation is not a project but must be a constant focal point when it comes to business development as digitalisation is constantly changing.
Obstacle 2: Understanding digitalisation as IT
When people hear 'digitalisation', they usually think of technology. Technology is a significant component of digital business development. However, the success of the digital solution is often dependent on its context. Therefore, technology needs to be understood in connection to both business and organisation.
For that reason, you should postpone decisions on technology until you have figured out the needs of the business.
Obstacle 3: Believing that digitalisation should be handled by the marketing department
The notion that digitalisation is a project often leads to the idea that digitalisation should be situated in a single department – often in marketing or IT. However, this is problematic.
Anchoring digital initiatives to a small group of employees make it even more difficult to realise the full potential. The value of data will always be split if digital initiatives are isolated into silo constructions.
Instead, the entire organisation must participate in the examination of where and how these digital approaches and technological possibilities can be activated and developed in both the business and the organisation.
Therefore, digital business development should be structured horizontally across all employees and departments.
Obstacle 4: Assuming that the organisation can see the value
I often say this when we advise companies: Digital transformation is dependent on change management because digital strategies are created on the management level, even though they are realised in operation.
Therefore, it is important for all employees to understand why digitalisation creates value and that they have to actively participate in the digital agenda.
However, many employees find it difficult to see the value of digitalisation. Let me give an example:
A company has ten salespeople. Every salesperson has their own way of approaching the market, a personal style, a certain technique for presentations, and often their own way of reporting. One person prefers writing notes by hand, another likes emails, a third has their own excel sheet, and the fourth uses a software program.
These ten salespeople now have to uniform their data during digitalisation. They all have to use the same digital platform. This exercise is difficult for most because every single employee has structured their workflows according to their own preferences.
When the company starts working with digitalisation, it will often cause issues and resistance. Therefore, leading these changes must be a top priority for management.
Obstacle 5: Expecting that the organisation has the necessary skills
An obvious obstacle is the lack of the necessary digital competencies. This sounds like an obvious issue, but it is often overlooked, which is problematic because it is limiting during the process of implementing new initiatives.
You must put effort into mapping the organisation's competencies. You should know who has the right skills for moving forward and functions as an ambassador and role model. You should also know who needs a little extra help, support, and development of skills.
In this way, you can help each other and that is necessary when working with digital business development.