5 years ago, only the biggest companies used dedicated platforms for handling product information. However, the development has been quick and today many SMEs also see the potential in a PIM platform.
And we understand why!
Many companies experience a significant increase in the amount and complexity of the product information that needs to be maintained and displayed. This is a development that has become welcomed among B2B companies, where products and the value chain tend to be complex.
What is a PIM platform?
PIM is a digital platform used to handle, develop, and maintain product data.
The base function of the PIM platform is to contain, administrate, and update all product data in the same place. Therefore, you can ensure that both employees and systems have access to – and utilise – the correct product information.
Among other things, The PIM platform can distribute and display product data on websites and in apps, internal and external systems, physical brochures, and customer portals.
Therefore, it supports both business creation and optimisation potential because the PIM platform contains all product information.
A PIM platform is not only about technology
Many companies are interested in process optimisation and with good reason. Often, there is a great optimisation potential in going over the details of your processes. A PIM platform is a strong tool for such a task. A structured approach to product data allows for efficiency, a shorter time to market, and better use of the journey for employees.
However, our experience is that many companies do not correctly start this process of implementing a PIM platform, which limits the benefits that come with the transition.
But what went wrong?
Many companies see the implementation of a PIM platform as purely an IT project. However, this should not be the case. Technology is just one element of the platform's success. Human resources and the surrounding processes are just as important.
This is due to the fact that data quality on a technical platform is greatly affected by the organisation of the data.
Our experience is that many companies are challenged in their handling of data. A typical issue is that production and operation speak a totally different language than the market-oriented functions. The silo construction of the organisation creates a gap in terms of comprehension. This gap will be reflected in the processes and data quality.
Therefore, you have to consider data, people, and collaboration between them – both before and during the implementation.
This may sound both costly and difficult. However, it does not have to be.
Actually, it is our experience that a PIM platform can be efficiently and successfully implemented over a few months if you plan the process correctly.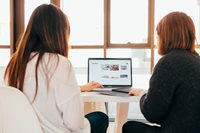 How to plan an effective process
Because the success of the PIM platform is highly dependent on human resources, it is necessary to implement ownership of the platform across the organisation.
Ownership is closely linked with the understanding of value creation on the platform for both the business and employees. Therefore, employees must actively contribute to both the clarification and development phases.
They need to be able to answer e.g.:
Why do they use the system?

How does the system create value?

How is the data internally and externally used?

What is their own role?

How does their role affect and how are they affected by the rest of the organisation?
If you skip the step of including employees, you risk many consequences. These consequences would be both customer-related – where missing or wrong information could result in a bad customer experience or production-related complications, where wrong data could result in faulty products and delivery.
5 steps for good implementation
To ensure good implementation of the platform, it is important for you to plan a process that considers the people, business, and technology.
Our take on the implementation process takes this into account:
1. Choose someone to be a bridge
The bridge is a project coordinator that must function as a link between the actors in a project. It is important for them to be a coordinator and not take on the role of project leader. the most significant task for this person is to be an ambassador of the objective and transverse view of the project. In this way, you avoid silo constructions or the project being controlled by just one department or a smaller group of employees.
2. Decrease to a relevant and representative group
The workgroup needs to focus on making clarifications, taking ownership, and defining the project. It is important that the workgroup is representative of the organisation, as this will allow you to notice and handle blind spots and different versions of data. This is the key to anchoring ownership across the organisation.
3. Create an overview of data and how it is used
Examine which product data is available and which employees should handle it. With this knowledge, you will get a good base for making qualified decisions in relation to the construction and utilisation of the platform.
4. C

ontinuous c

larification and implementation

Build the technical platform with organisational clarification. This ensures you an effective process, less derailing, and the opportunity for continuous feedback. An agile process will challenge your understanding of the existing data and give you the option to see unexpected possibilities.
5. Use the PIM platform for business development
When the system has been launched, many will automatically think of it as a finished project. This is a shame. The platform's data foundation and the surrounding processes could be used to pave the way for your presence in new channels and markets. This allows for the optimisation and automation of other processes. Therefore, you should use the platform as an active tool in future business development.